The Grandstand, Bath And West Showground, Shepton Mallet, Somerset BA4 6QN
Business in Gwent –
A Yorkshireman's view of Wales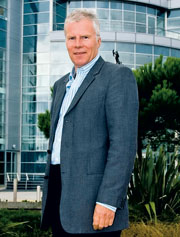 25th April 2007

Richard Froggatt, chairman and managing director of London and Wharfedale, has just entered into a joint venture with Chepstow-based developer Broadhall. He previously was main board director of St Modwen Properties PLC where he played a pretty major part in increasing the market capitalisation of the company from £80m to £600m.

As a Yorkshireman with vast experience of working in the London property market, he spoke to the business to share some thoughts on the current property scene in Wales and its future.

Success is always driven by passion and commitment. This applies to the property industry as much as any other.
As a Yorkshire man in Wales I can well understand the pride and passion that is intrinsic to the country, which is often modelled so well by those I meet who work in the property industry in Wales.

Wales has one great advantage in that it has a solid identity and its people have great passion and commitment.
I've had some of the best meetings with some exceptional people working within the public sector in Wales, and I strongly believe that Wales is on the way to becoming a world class place to live and work - once the M4 is sorted!

However, I do believe the private and public sectors should find ever better ways of working together more effectively.
Where this has been achieved in other parts of the UK, the results have followed. In the future I hope there is more emphasis placed on the more obvious and more deprived locations.

The private sector, particularly those parts with real vision, have the potential to achieve much.

The support needed here is to fast track planning where appropriate.

The public sector can be most effective by focusing on those projects that are either simply not viable commercially, but are nevertheless needed, or require major land assembly.

Wales happens to be better than most but processes can still take too long especially where inward investment is at stake.
I also believe there is still huge potential for the tourist industry in Wales.

Ten years ago I had never been to the Gower, and in my mind it is probably Wales' best-kept secret. Generally around Wales there is bags of unrealised potential.

I would say the property market in Wales at the moment is pretty dynamic with opportunities still to be realised. It's not, however, a time for any complacency. It's important to maintain a very high standard of regeneration and development and to be constantly looking at the medium to long term."